Over the recent holidays I had the good fortune to be able to catch up with an awful lot of old friends, or rather I had the good fortune that they agreed to have me as a house guest. A couple of my bookworm friends had been brought a Kindle as a gift by a well meaning friend or relative who had obviously assumed that this would be a desirable gift for a bookish loved one. The same happened to me. The ensuing conversation I had with these friends invariably went like this:
"Ah, so you, ahem, got a Kindle too then?"
"Urr, yes, but, um, I didn't ask for it..."
"No, me neither. I'm not sure how much I'll use it, I mean, you wouldn't use it in the bath and a book never runs out of batteries..."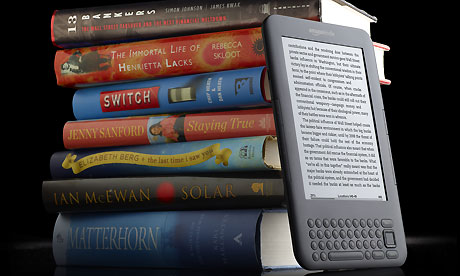 So it seems that amongst readers, there is a staunch contingent of traditionalist Kindle dissenters. I like to think of it as loyalty because I can absolutely see where they are coming from, but the reality is I am rather enamoured of my Kindle. I thought I would use it to replace those paperback classics which you would only buy for a pound or less, light reading, frivolous stuff. In reality I think I am going to find it more useful for professional reading (I'm lucky that my professional reading includes classics and the like). Loads of classic are absolutely free, in fact (as I understand it) anything that is out of copyright or the text is freely available on the internet, all free. What is better is that you can instantly look up the meaning of words by tabbing down to them, in your pre-downloaded, reputable dictionary. And you can annotate (admittedly the keyboard function is a bit clunky) without ruining a physical object. Quite brilliant.

I wouldn't say I'm a convert; I find it a little unfriendly and clinical and it is my job to treasure books, look after them and promote their use, but there is a future filled with e-readers and libraries need to address that.
After a slow start things seem to be moving in the right direction. Perhaps inevitably – the USA are ahead of the game, making Kindle ebooks available through public libraries by working with Amazon and Overdrive, but if they are doing it I'm sure it won't be too long before we are here. At least Amazon seems to be playing ball. The same cannot be said for publishers.

I had not fully realised the extent of the problem until I read Librarian By Day's post following the news that Penguin had retracted e-book lending through public libraries following 'security concerns'. When I read this news I trustingly presumed that it was a temporary glitch and they truly were working on a way around it. However if this is a knee-jerk reaction to piracy concerns this seems somewhat laughable. Would it honestly be worth someone's while to pirate their publications when anyone can get them for free from their public library?
Let's hope Amazon is as keen to work with British libraries as they are with those in the US. If not that reads bad news for public libraries (especially with Google now in on the act), however, if so, we may not have to rely on the publishers after all. Maybe the new national e-books group can work out a universal lending model that is more palatable to the publishers. My fear is that they will still not think it worth their while, now that enough people are buying e-books at rock bottom prices.